In his 2006 report on the state of the federal judiciary, Supreme Court Chief Justice John Roberts says salaries for federal judges are too low and calls on Congress to increase them. He writes that "the issue has been ignored far too long and has now reached the level of a constitutional crisis that threatens to undermine the strength and independence of the federal judiciary."
We analyze CJ Roberts' data and arguments.
The Chief Justice's 2006 report on the state of the federal judiciary makes the following arguments in favor of his conclusion that federal judges are inadequately compensated:
Whereas in 1969, federal district judges made 21% more than the dean at a top law school and 43% more than its senior law professors, today federal district judges are paid about half as much.
Whereas the average U.S. worker's wages have risen 17.8% in real terms since 1969, federal judicial pay has declined 23.9%. The statistic Roberts cites for judges' pay also includes Members of Congress (about which we will comment below)
Whereas in the Eisenhower Administration, roughly 65% of federal judges came from the practicing bar and 35% from the public sector, today roughly 60% come from the public sector and less than 40% from private practice.
The decline in judges' pay is causing judges to resign and return to private practice — 38 over the past six years, and 17 over the past two years.
If judicial pay is not increased, judges will consist of "persons so wealthy that they can afford to be indifferent to the level of judicial compensation" or "people for whom the judicial salary represents a pay increase," and on average this will mean a significant decline in the quality of judges.
Let's analyze each of these claims. First we need some baseline data.
Federal district and appellate court judges are paid annual salaries of $165,200 and $175,100, respectively. These salaries are the same whether the judge serves in the most expensive jurisdiction (New York, NY) or the least expensive (McAllen, TX), cities whose general price levels differ by a factor of 2.5. To be clear, the comparisons CJ Roberts makes apply to judges serving in relatively expensive jurisdictions. A district court judge serving in McAllen,TX may be earning a fair multiple of the salaries of private practice attorneys in the area.
Are the salaries of premier law school deans, senior professors, or lawyers in private practice appropriate benchmarks for judicial salaries?
Roberts assumes that judges, deans of premier law schools, and senior professors at such schools have so much in common that they should receive roughly equal pay. After all, they received the same academic training, have obtained the same level of job security, and oftentimes the hold same outlook on the world around them. They also may know each other very well and have the same social standing, patronize the same arts, donate to the same charities, and want to belong to the same exclusive clubs. But their jobs are very different. Senior professors teach, perform research, and occasionally practice law. Law school deans recruit faculty and students, and increasingly, raise money. These job activities overlap very little with what judges do, which is decide cases. In short, deans, professors and judges are similarly trained people who work in very different labor markets producing very different products. Salaries for law school deans and senior professors are determined by demand in competitive labor markets.There is no reason to believe that freely functioning markets would set similar salaries for them all, except by chance. (There also are strong reasons not to use markets to set judicial pay; more on that below.)
Roberts also assumes that the observed relative rise in salaries for deans and senior law professors is what's normal, and therefore it provides an appropriate baseline. This might be correct, but it isn't obviously so. If judges' salaries were used as the baseline, it would appear that deans and senior law professors are reaping windfall profits from the increase in the asset value of the sinecures they own. (The fact that their salaries are set in competitive markets is no shield from an allegation that they are collecting windfall profits. Unexpected increases in the value of prime real estate, wine, artwork, precious metals and oil all lead to windfall profits.)
Salaries for lawyers in private practice also are determined by competitive markets. But even here there is considerable variation in job responsibilities. Some lawyers do research, some investigate and prepare cases, and others actually litigate. Litigators may tend to be be more senior lawyers, but many senior lawyers have never litigates a single case. One very important reason for job specialization among lawyers is that the domain of legal knowledge is too vast for anyone to be competent in all of it. Another is that lawyers vary in their gifts and comparative advantages. A lawyer without charismatic flair may not make an effective litigator, and a flamboyant personality may be a handicap to painstakingly careful research. A third reason for job specialization is that the nature of products that lawyers produce are also highly variable. For many clients, the lawyer's job is to keep them out of court where they would be at the mercy of a generalist judge who, regardless of his innate intellect, almost certainly lacks enough technical expertise to actually understand the case he's adjudicating.
There is an economic argument that the best attorneys are specialists and thus ought to work in private practice specifically to be able to specialize. The labor market for physicians is instructive. In a 1998 survey of physicians with three years' experience, general practitioners earned an average of $143,000. Specialists in internal medicine earned $148,000 (3% more), cardiologists earned $283,000 (98% more), and cardiovascular surgeons $559,000 (291% more). Roberts believes that judges ought to be paid as if they were distinguished medical specialists. But given what judges actually do, they are probably less like cardiovascular surgeons and more like managed care case managers.
Roberts also makes an implicit argument that judicial pay should be based on seniority, or at least, it's offensive for experienced judges to be paid only as much as inexperienced private practice lawyers. He writes: "Beginning lawyers fresh out of law school in some cities will earn more in their first year than the most experienced federal district judges before whom those lawyers hope to practice some day." In Los Angeles, for example, starting salaries hit $145,000 in 2006. Of course, new associates often work twice as many hours as federal judges.
Markets are great tools for allocating scarce resources, but setting judges' pay is almost certainly a bad idea. Judges' salaries are set by statute because allowing markets to set judges' salaries would undermine judges' independence. They would be "owned" by the highest bidders.
Are wages of average US workers appropriate benchmarks for judicial salaries?
CJ Roberts says judges' wages have not kept pace with real wages and salaries generally, and he says that they should. This shows limited understanding of how labor markets work. Wages and salaries rise with improvements in labor productivity. But Roberts provides no evidence that judges' labor productivity has increased at the average rate observed in the private sector. Without this showing, Roberts is making a naked equity argument: judges deserve to receive salary increases that reflect the average growth of private sector labor productivity even if they have not earned them. This might be so, but to persuade the public it probably will require a more thoughtful, better researched, and more carefully reasoned case — something that surely is within the Chief Justice's ability.
It is ironic that Roberts resorts to mere assertion rather than the kind of careful argument he would expect in a legal brief or oral argument. This suggests that he cannot support his case with facts and analysis. This is a sufficient reason for the public to, as he puts it, "put down the annual report and return to the Rose Bowl."
What is the significance of the increasing propensity of judges coming from the public sector?
CJ Roberts' concern is plain: the best lawyers do not come from the public sector: "It changes the nature of the federal judiciary when judges are no longer drawn primarily from among the best lawyers in the practicing bar." He's vague about how this changes the federal judiciary, but he clearly implies that these changes are bad. We could speculate why this might be so, but readers of the Chief Justice's report should not have to guess as to what he means as if it were a judicial opinion.
Even if Roberts is right that the best lawyers work in the private sector, he merely asserts that low judicial salaries are the cause of this change. His evidence consists of blurry snapshots of the judiciary taken 50 years apart. That's not even enough to show an association, much less a causal relationship. There are a lot of reasons why judging would have become more appealing to public sector lawyers over the past 50 years, not least of which is the courts' evolution into a quasi-legislative branch of government. But Roberts fails to control for any of these factors. However persuasive his fellow jurists might find this cause-and-effect argument, it would be dismissed outright by most respectable statisticians. Given the increasing frequency of cases in which judges need minimal competence in statistics and scientific method, Roberts' reliance on plainly substandard statistical methods does not instill confidence in the competence of the federal judiciary.
Does the number of financially-motivated judicial resignations support the claim that judicial salaries are too low?
CJ Roberts asserts that low salaries have caused many judges to resign and return to private practice. The implication is that judges do not retire and return to positions in the public sector, but there are notable examples such as Department of Homeland Security Secretary Michael Chertoff. Of the three current vacancies due to resignation, none left for private practice: one become chief counsel of the University of Pittsburgh Medical Center, another became chief counsel for Boeing, and the third became astate circuit judge.
In any case, the figures cited by Roberts are not persuasive. There are 89 federal district courts in the 50 states with slots for 649 district court judges, and 13 circuit courts with slots for 179 judges. At any time some of these 828 slots are always vacant. Today, for example, there are 56 federal court vacancies, mostly the result of judges choosing to go on "senior" status rather than retire or resign. Roberts says that 38 judges have resigned for strictly financial reasons over the past six years, with 17 of them having resigned in the past two years.
Roberts calls these figures "sobering," but it's not obvious why he'd think so. It's a financially-motivated resignation rate of less than 1% per year. Given the difficult process of vetting, nominating and (especially) confirming new judges, it may well be a hardship for courts to adjust to even a small number of resignations, and especially so if they are concentrated in jurisdictions where the cost of living is exceptionally high. But the rate of financially-motivated resignation appears to be remarkably low for "a constitutional crisis that threatens to undermine the strength and independence of the federal judiciary."
Taking a step back, what happens when a judge retires? As provided for by 28 U.S.C. 371, judges receive their full salary for life provided that they are able to perform three-months administrative work as assigned by the chief judge of their court or retire on "senior" status. To retire on senior status a judge need only be 65 years old and have served for 15 years. In 2003, white males aged 65 had an expected lifespan of 17.6 more years. At a 5% discount rate, the present value of this pension exceeds $2.3 million ($2.5 million for appellate judges).
This is analogous to (but much more generous than) the deferred compensation active duty military officers receive upon retirement (which is zero for the first 20 years of service and cannot exceed 75%). In both cases, significant retirement pay is a substantial employment benefit. In his comparisons, CJ Roberts ignores the imputed value of this lifetime pension and the ease with which it is earned.
Is CJ Roberts' prediction of future judges' pedigrees reasonably likely to occur, and if so, is it also likely that the quality of judges would decline as a result?
CJ Roberts is concerned that judges resign because the pay is too low. Though he doesn't seem to recognize it, he actually identifies a very different reason why judges might choose to resign — remaining a judge can have high opportunity costs:
If judicial appointment ceases to be the capstone of a distinguished career and instead becomes a stepping stone to a lucrative position in private practice, the Framers' goal of a truly independent judiciary will be placed in serious jeopardy (emphasis added, pp. 5-6).
In short, as the judiciary's role in American life has expanded, judges develop very specific and extremely valuable human capital. Prestigious law firms, large companies and universities are willing to pay a lot to gain access to this knowledge. Ironically, increasing judicial salaries won't solve this problem, and could make it worse. To see why, first note that higher judicial salaries can't reduce judges' value in the private sector. If anything, it will only increase what resigning judges must be paid to entice them to resign.
Law firms and companies can completely neutralize any judicial pay increase by increasing their bids dollar-for-dollar.Higher judicial salaries can succeed in reducing the number of judges who resign for financial reasons if and only if private sector employers do not match the raise. And if they don't, they still will pay more for resigning judges because the supply of resigning judges will decrease and rising scarcity drives up prices. After the pay increase for judges, those who resign anyway will earn more in private practice than they would if they had not resigned.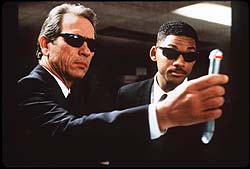 If judges are resigning for financial reasons, then Roberts thus has misdiagnosed the problem. It isn't that judicial salaries are too low, but rather the opportunity cost of remaining a judge is too high. That can only be remedied by reducing judges' value when they resign. Either the specialized human capital they obtain while serving as a judge must be "neuralized" (apropos for Men in Black) or the scope of judicial power must be much more tightly circumscribed so that their post-judicial market value declines.
Which leads us to consider what factors Roberts has ignored that might explain why remaining a federal judge has high opportunity costs. One is that the job of judging has changed over the past 50 years. Whereas a judge used to be an impartial arbiter of disputes about the application of federal law, judging increasingly has become a quasi-legislative function. Roberts notes without irony that his predecessor seems to have based his call for higher judicial salaries implicitly on the expanding nature of the judiciary's role in American life:
Twenty years ago Chief Justice William H. Rehnquist submitted his first year-end report. He specifically focused on the inadequacy of judicial compensation. He pointed out that Congress had failed, over a period of nearly two decades, to provide judges with salaries commensurate with increases in the cost of living and the importance of their responsibilities (emphasis added) (p. 4)
This also may explain the increasing propensity of public sector lawyers to become judges. The job has become more political and more policy oriented as well as more legislative. On the whole, lawyers from private practice should be expected to be less political, less policy oriented, and less interested in being quasi-legislators than lawyers from the public sector. If Roberts were to carefully examine the data on resigning judges, he might find that judges from public sector backgrounds are least inclined to resign. For a public sector lawyer, being a judge is precisely what he wants it to be: "the capstone of a distinguished career."
When Roberts' limited analytical evidence is stripped away, all he is left with is the assertion that judges deserve to be paid more because anything less is unseemly and unfair:
As Chief Justice Rehnquist observed, federal judges willingly make a number of sacrifices as a part of judicial life. They accept difficult work, public criticism, even threats to personal safety. Federal judges, who have historically been leaders of the bar before joining the bench, do not expect to receive salaries commensurate with what they could easily earn in private practice. They can rightly expect, however, to be treated more fairly than they have been. Judges, who have the obligation to make decisions without regard to public favor and who must frequently make unpopular decisions, have no constituency in Congress to voice their concerns. They must rely on fact, equity, and reason to speak on their behalf. Those considerations make clear that the time is ripe for our Nation's judges to receive a substantial salary increase…Congressional inaction in the face of this situation is grievously unfair (pp. 5-6).
It seems doubtful that Roberts' plea will be favorably heard by the court of public opinion, to which he clearly has appealed. We're not sure if his clients in the federal judiciary have a good case. What we are pretty confident about is that if a good case can be made, the Chief Justice has not argued it very well.